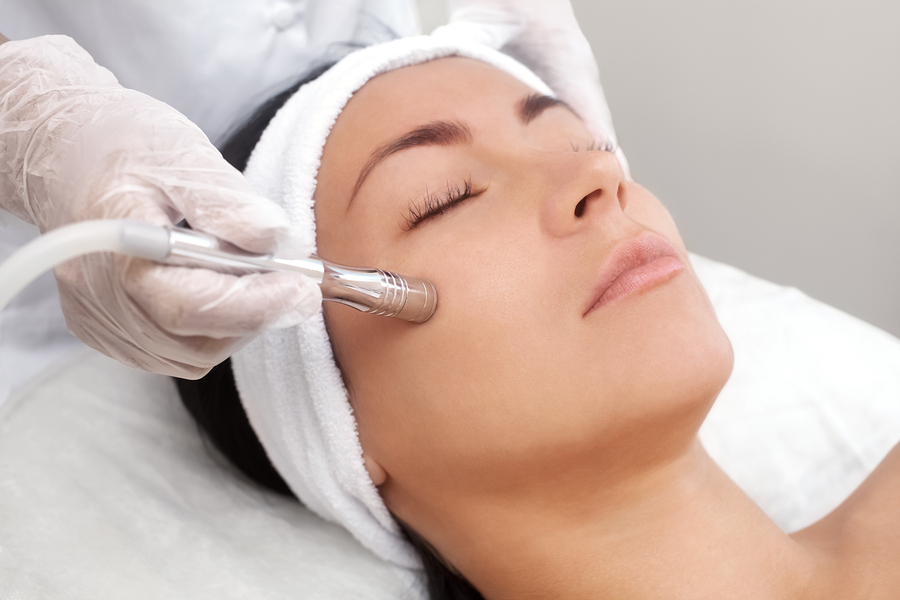 The Difference Between Microdermabrasion & Hydrodermabrasion
For many years, microdermabrasion has been the treatment gold standard for clients that wanted clearer, softer, and more radiant skin. However, some clients were hesitant due to the down time or skin sensitivity.
Hydrodermabrasion is the new alternative to microdermabrasion treatments that is safe for all skin types and has many of the benefits of the traditional procedure with no down time.
Microdermabrasion
A microdermabrasion treatment uses microcrystals to exfoliate the top layer of skin and remove impurities. This procedure is extremely effective at targeting:
Fines lines

Acne scars

Congested pores

Sun damage

Skin discoloration
There is redness associated with microdermabrasions and the skin may peel and need to heal afterwards.
Hydrodermabrasion
Hydrodermabrasion is a gentler, less invasive treatment that uses a custom water treatment to remove impurities from the pores while simultaneously infusing the skin with nutrients and peptides.
Our Hydrodermabrasion Facial enhances hydration in individuals with dry, irritated, and sensitive skin but may be customized for all skin types.
Results are seen immediately!
Similarities and Differences
Both hydrodermabrasion and microdermabrasion can be used for exfoliating to treat most skin impurities.
Microdermabrasion is more effective for people with scarring and skin damage, while hydrodermabrasion is hydrating and nourishing.
Both treatments stimulate collagen while only the hydrodermabrasion increases blood flow.
Microdermabrasion is more intense treatment that may require some time heal. It is not recommended for dry or sensitive skin.
The Hydrodermabrasion Facial uses a combination of serums and boosters to hydrate while exfoliating the skin. This treatment can be customized to any skin type and is used to achieve long-term benefits.
Which treatment is best for me?
Before choosing a treatment, it is important to understand what concerns you are looking to address. At IntegraLife Spa our clinical estheticians will help you determine the best option for you and customize a treatment plan for your long-term skin care goals.
Please call us at 239.437.8386 to or go online to schedule an appointment.